Despite reports that Villanova has been trying to block Temple from transferring to the Big East, it appears that Temple has a friend within the Big East in Louisville.
Rick Pitino, Louisville men's basketball coach, is actively lobbying to add Temple for both basketball and football in the Big East. Pitino expressed his opinion to Big East commissioner John Marinatto on Wednesday that the conference needs to expand its basketball profile to make up for the losses of basketball powerhouses Pittsburgh and Syracuse, which announced their departure for the Atlantic Coast Conference in September.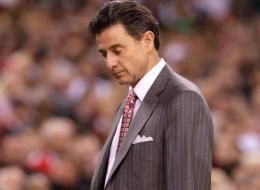 Pitino said that a combination of Temple's rich basketball history and the recent success of the football team make it an attractive candidate for addition to the conference.
Andy Katz and Rick Pitino on admitting Temple to the Big East.